It probably doesn't come as a shock that the Hot Tub cover is a key part of your tub! No cover, massive heat loss and expensive electricity bills. Bad or damaged cover, same scenario. Cheap cover, again, it is going to end up costing you in the long run. Therefore in this article, we are going to look at what you should be looking for when you are purchasing a new Hot Tub cover.
What NOT to do with a Hot Tub Cover
Let's start the article with a few pieces of safety advice.
DO NOT SIT / STAND or LAY on your hot tub cover. It WILL NOT support weight. Even resting your elbows on a cover can put a small dent in the foam. There are manufacturers out there that claim that their covers are fine to stand on. Honestly, it is not worth the risk. Also, it kind of sets a precedent. If your kids can walk on your cover, they will assume they can on all. That is how kids think and that is a huge risk. Just dont do it.

KEEP CHILDREN AWAY – Kids love to play! DO NOT allow them to play under the cover! I know it is so tempting with the lights on for the kids to go under the cover. Just don't let them do it. So dangerous it just is not worth the risk.

NON-SECURED or IMPROPERLY SECURED covers are a HAZARD. I'll be honest on this point. My cover does have the securing tabs attached to it but I dont use them. Is this a risk? In my case, the cover is so big and so heavy that there is no way the kids can move it (neither can the wife FYI). That said, smaller tubs should definitely have the cover secured. For safety and also to keep it covered in strong winds for example. You don't want to have knocking on the neighbours door asking for you Hot Tub cover back!
CHECK COVER FREQUENTLY for damage and / or premature deterioration.

Damaged covers do not do their job properly. Once they begin to take on water, they become heavy and difficult to move. Also, the thermal properties that keeps that all important heat in your tub are affected and they do not insulate in the right way. Its time to replace. So on that note, let's look at what you should be looking for in a Hot Tub cover.
Time for a Replacement?
Most hot tub manufacturers will supply new hot tubs with covers ready fitted. I guess it doesn't make sense not to supply one!  Depending on the quality of the hot tub, the cover may last a long time or, if you're unlucky, it might be that the manufacturer didn't use high quality materials and the cover might need replacing sooner rather than later.
To a certain extent, from the manufacturer's point of view, covers aren't all that exciting to sell and hot tub purchasers often don't really have the quality of the cover high on their priority list. It's much more exciting to think about the size of the hot tub, how it's filtration system works, how comfortable it is and how many jets it has rather than what the thermal efficiency of the hot tub cover is.  Of course, many manufacturers provide high-quality covers with their hot tubs, but some at the lower end of the market inevitably do provide covers that are of lesser quality, will be less efficient and last a shorter amount of time than a high quality cover.
So, it might be that you need to replace your hot tub cover because it's simply too old and worn out or you might have realized that the cover you currently have doesn't suit your purposes or isn't particularly thermally efficient.
Types of Hot Tub Cover
There are 3 main types of spa covers – Soft Spa Covers, Hard Spa Covers and Aluminum Spa Covers.
Spa Soft Covers (aka soft spa covers), are a durable vinyl fabric that is stretched over the spa top and fastened to the spa cabinet with rubber straps. They are used with an air filled vinyl pillow floating underneath the soft cover, to reduce pooling of rain water.
The Good: Lightweight and much less cumbersome than traditional folding spa covers. Lowest cost for a spa cover, $150-$200.
The Bad: Not a thermal spa cover, very low R-value which makes it unsuitable for most heated hot tubs.
The Ugly: Even with the air pillow used underneath, heavy rain can cause water (and stains) to collect on the cover.
Hard Spa Covers are the traditional vinyl wrapped foam cores with a center hinge for folding. The most popular type of spa cover, hard spa tops are made to fit the spa dimensions exactly, and are fastened to the spa cabinet with straps and clips.
The Good: Seals tightly to spa edges to perform at the highest possible R-value for heated spas. Affordably priced from $294-$500.
The Bad: Larger hot tub covers may require two persons to remove and replace the cover, unless a cover lifter is used.
The Ugly: The foam cores can break under a heavy load or horseplay, and can absorb water if the foam core seal is cut or punctured.
Aluminum Spa Covers are a close cousin to the Hard Spa Cover, and have been around for years. A Styrofoam core is sandwiched between two aluminum plates, and edged with a thick aluminum border. Can attach to spa cabinet with optional straps.
The Good: Lightweight and sturdy aluminum frame, Styrofoam cores that can't absorb (much) water, many attractive colors.
The Bad: Lower R-value. No skirt over the edge of the spa, heat seal is made by a 1/2″ rubber gasket between spa lip and cover.
The Ugly: Hard to place without a spa cover lifter. Easily slips into the water, can scratch spa finishes. Highest cost of $1200-$1500.
So, when shopping for a new spa cover, take a lesson from the irony contained in Eastwood's great western epic, "The Good, the Bad and the Ugly" (1966). Not everything good is all good, and not everything bad is all bad, and maybe ugly is just that, and nothing more.
What to Look For in a Replacement Hot Tub Cover?
ASTM Safety Standards
Spa cover safety is especially important if you have children or pets that can get near your spa or hot tub which is why you must look for a cover that is ASTM certified.  You should also know that many municipal building codes require ASTM-compliant hot tub covers to be used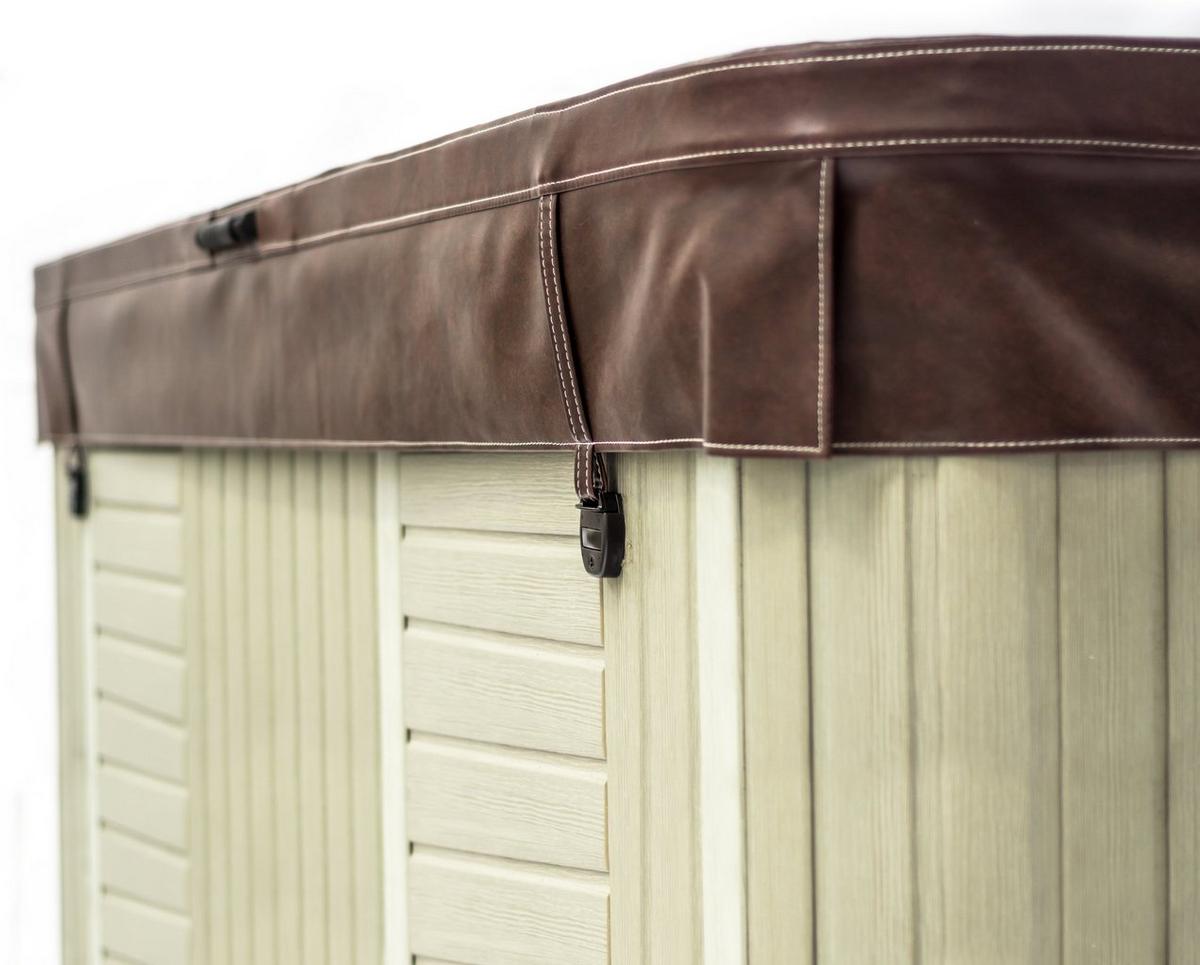 Covers that are Built to Last
You've got to go for the most durable option that you can find and afford. You should look for the following;
Double stitching, 40-point reinforcement and high quality zippers address every stress point.
Premium marine-grade vinyl is treated with mildew and UV inhibitors.
Custom seals that retain heat and prevent moisture loss.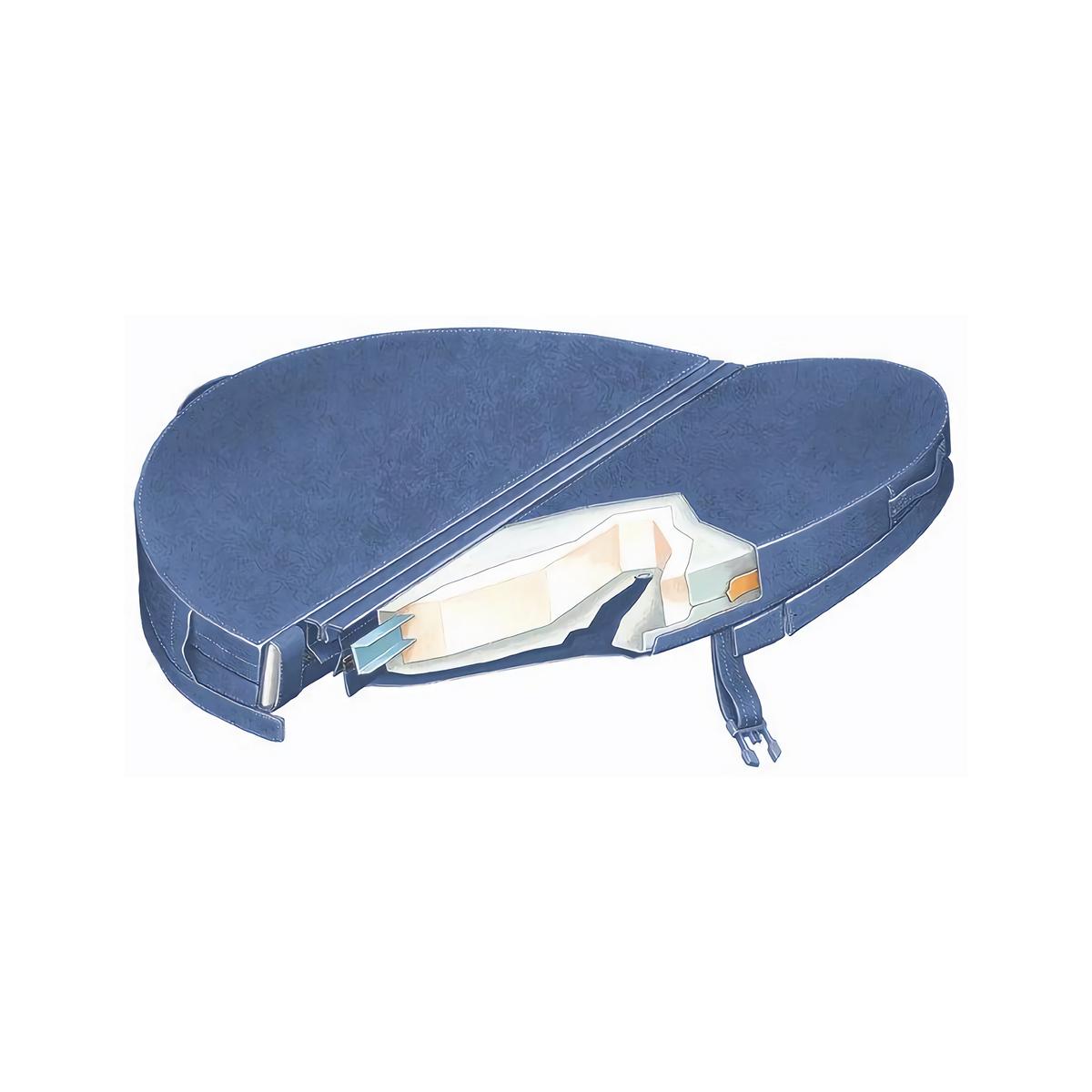 Tapered Closed Cell Virgin Foam & 20-Guage Steel Channels
Thicker covers provide better insulation. It is not rocket science. You should be looking for something around 4″ thick and tapered so that water drains off. The 4-inch to 2-inch tapered spa cover that feature closed cell virgin foam core insulation its what you should be looking for. This is the best option when it comes to cover strength and heat retention all while keeping the cover weight as minimal as possible. For added reinforcement, look for a 20-gauge steel center channel  to strengthen the cover's center and provide extra strong support.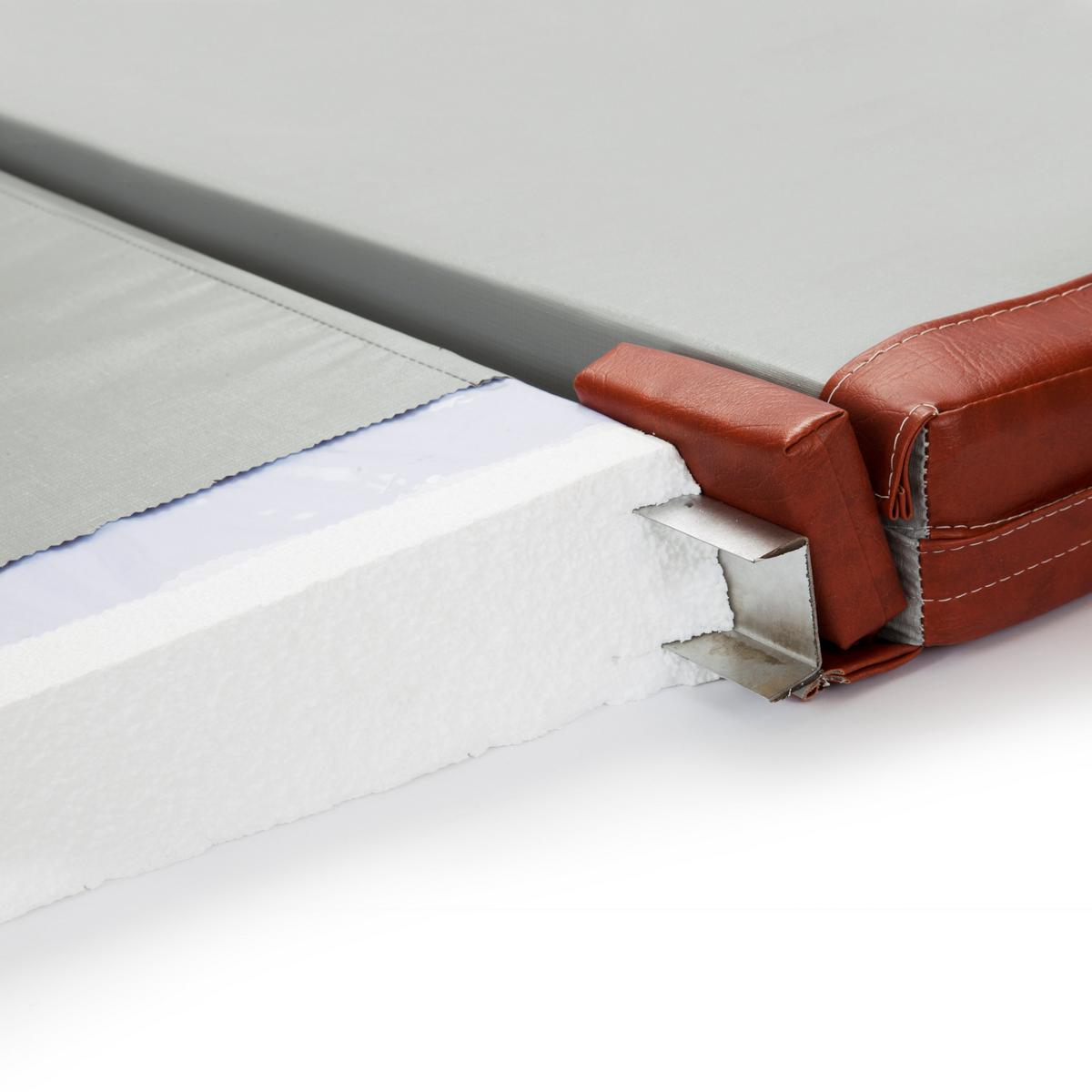 Sturdy, Four Layer Hinge
The hinges on spa covers are critical stress points which is we make these areas sturdier by using four layers of reinforced vinyl. The design and function of our hinge has been tested through thousands of folds to ensure reliable use for years of opening and closing of your spa cover.